Jan 1, 2017 17:18:54 GMT 8
Post by CHARLIE GABRIEL VALDEZ on Jan 1, 2017 17:18:54 GMT 8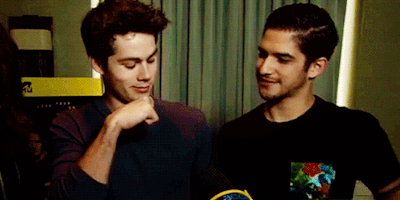 Being back at Hogwarts was like a breath of fresh air for Charlie. Despite the bad things that had happened here to him in the recent years, Hogwarts was still home for him. He'd spent the holidays at Icarus' home with Icarus and his father. He still hadn't been home since the attack the previous school year, mostly in fear of what he could do to his family. Why was it different between Icarus' family and his own? At least Icarus knew what he was spending his time with. He couldn't just walk into his muggle home and tell his mother and sisters that now he was not only a wizard but also a vampire. That's what was taking the time, to figure out how to talk to his mother, how to talk to his sisters. Instead Icarus had told them that he was fine. A professor had also spoken to his mother, he found out, to relay the same message.

Charlie was beginning to adjust rather well to his change, mostly thanks to Icarus. While some things he still struggled with he still had a wonderful group of friends. Charlie had awoken in the boy's dormitory of the Hufflepuff common room before any of his house mates. He got out of bed and got ready for his day. He combed through his messy dark brown hair, not that it ever did much to actually fix it.

He went out of the Hufflepuff common room and stopped by the kitchens to grab some toast and bacon before making his way up to the fifth floor so he could await for his favorite Ravenclaw, no not Aisling Dolohov, but Icarus Llewellyn, his best friend, his brother. It was why he grabbed breakfast for his friend so he could have some breakfast right after waking. Ever since Charlie had his new found abilities, he was often awake before many others. He had only passed a few other students on his way up towards the entrance of Ravenclaw Tower.

He sat down across from the entrance to the Tower so he'd be sure to see Icarus when he came out of the common room, or Icarus would see him. Like a normal habit he popped open a book, mostly because he expected Icarus out of the common room about the same time that the toast and bacon would be cooling down. It wasn't as if he could go in and wake his friend up, so reading while he was waiting was the way to do it.